Our Coronation Celebrations!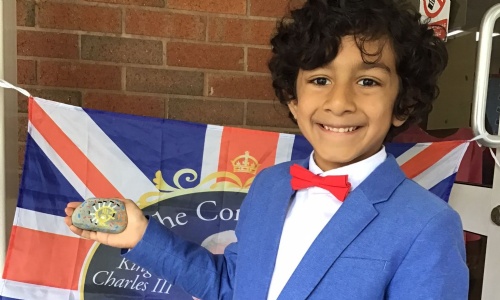 On Friday 5 May, we celebrated the crowning of King Charles III. At school, we arrived in our red, white, and blue clothes and had our own coronation activities to remember this occasion.
Our fun-filled day started with an assembly talking about King Charles and his coronation, which was then closely followed by a flag-raising performed by the CCF, accompanied by the National Anthem. Afterwards, all the classes separated to enjoy different activities such as pebble painting. Previously in the week, each pupil had brought in a pebble suitable for painting. Using paint pens, everyone had their unique coronation designs on their pebble to display.
We were given a special coronation cupcake at break time, provided we bowed to Queen Wilby before. They were delicious, and everyone enjoyed their special snack. Another activity we did was coronation games; the indoor games rewarded the winners with sweets and the outdoor games included beanbag throwing, a fun relay race and more!
One of King Charles III's hobbies is to paint in watercolour. He often paints landscapes he has seen, so we were given paint, paper, brushes and pictures of beautiful landscapes to create pieces of art.
In addition to the other activities, we wrote postcards to the King. Everyone was given blank postcards and, whilst watching a previous coronation on our class screen, we wrote postcards congratulating the King on his crowning, with hand drawn pictures on the back. We couldn't wait for the coronation!
By Isla and Sophie, in Year 6