Year 6 Cranedale Residential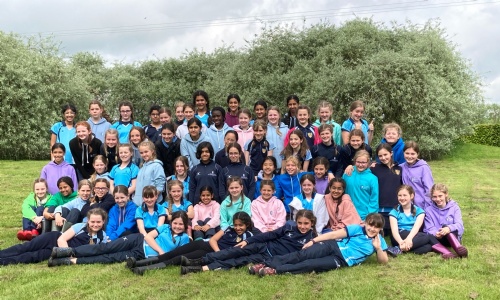 Year 6 pupils and accompanying staff have spent the last five days in glorious North Yorkshire; as part of the Year 6 field study.
We have filled our days with pond-dipping, small mammal trapping (and then releasing), survival games, rock pooling, bird spotting and moor walking, amongst other fantastic scientific and geographical activities.
This was my second visit to Cranedale Centre, but for some, this was the first time spending five days away from home and their families and, for others, the first time they have ever spent a night away. This has been an enormous hurdle for many of our young people to overcome – and they have coped magnificently, demonstrating many of our Skills for Life: resilience, determination, independence and teamwork, amongst others.
As well as emotional resilience, our students (and teachers!) have needed to dig deep this week to show physical and mental strength. Our visit to the North York Moors National Park involved a two-hour descent into the rocky ravine of Dundale Griff, where we headed towards a freshwater stream for our ecological study of the cleanliness of the water.
The walk, advertised as 'more-than-a-stroll-but-less-than-a-trek', was a demanding descent over fossilised sedimentary rocks that would have challenged even the most experienced of ramblers. Once again, our Year 6 girls showed their determination, strength and resilience, as well as incredible physical skills, stamina, empathy and care for those around them who needed a hand or two to help them navigate themselves over fallen tree trunks and down dried-out waterfalls; this was followed by two further hours back up a gruelling, perpendicular mountainside that, last year, I vowed never to do again! Time eases all pain and, of course, I saw it as a challenge to be conquered. A year older and wiser, it seemed less like a mountain this year but still an enormous feat! The girls coped easily.
An unforgettable sight to behold was during our visit to Bempton Cliffs Nature Reserve, where almost half a million sea birds gather on the ledges of the cliffs, from plentiful gannets and guillemots to the elusive puffin. The weather and conditions were kind to us this year and we counted ten tiny Auks, with their distinctive black heads, large pale cheeks and their brightly coloured bill and legs. So inspiring were they, that Daisy took to writing an acrostic poem about them.
This week was also about memory-making. Girls have made new friends and rekindled old friendships, shared the highs and lows of being away from home, spent days outside with no TVs or electronic devices – and they have laughed! I truly hope that our girls remember this week for the rest of their lives. What a great way to end (almost) their time at Prep!
Mrs Johnson
Director of Studies