Live Q & A with Super League Netballers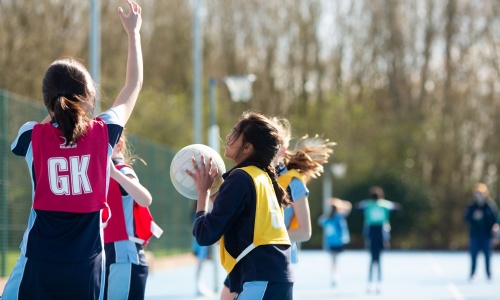 On Wednesday, girls in the Prep department had the exciting opportunity of a live Q & A with Super League netballers, Lucy and Rosie Harris. The sisters gave some inspiring answers and an insight into what it's like to be an elite athlete. They spoke about various aspects of their life such as their childhood growing up, new ventures with their netball app 'Netu' and barriers they have overcome. They both reinforced the message of being kind to yourself and being a supportive team member, core values for us at Warwick Prep.
Nancy and Olivia have written a few words about what they took away from this opportunity:
It was inspiring to listen to the sisters talk about netball and their different pathways in life. They both talked about the importance of being dedicated and the barriers they had to overcome to achieve their dreams of becoming netballers in the super league (the Netball Super league is a top-level netball league featuring teams from the United Kingdom). Both athletes spoke about playing a range of sports from a young age and enjoyed being active in various walks of life. Coming from a competitive background they were dedicated and passionate about everything they participated in. They had belief in their own ability and encouraged us to do the same. The sister's told us to talk to ourselves kindly like you would to your teammates as it was an important step to success. From a young age they played different sports from hockey to athletics to netball. They told us that keeping our options open was key and to give us maximum opportunities. As we have our teachers to help with our education, they have their coaches who help them achieve their personal and professional goals, who are part of their support network. When asking the athletes what their favourite thing about netball was, they answered, "being able to work so closely with their teammates and how they play an important role in their life, picking each other up when they fall." We were very grateful to meet such inspirational women and can't wait to use their advice in our future games! Thank you to the sports department for organising this and to Lucy and Rosie for giving us their time and motivating us to be the best we can be!
If you would like to know a little more about the sisters, follow their teams. Rosie currently plays for Leeds Rhinos and Lucy plays for Severn Stars. Both have games this weekend which you can watch.