Ancient Egyptian and Greek Day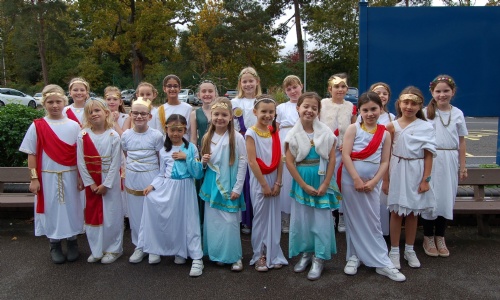 On Tuesday 9 November, the Year 3 and Year 4 girls took part in an immersive History day as part of their learning.
The Year 3 girls have been learning about life in Ancient Egypt and came to school dressed as Cleopatra, beetles, Anubis the wolf-headed dog and pharaohs to name but a few! The Year 4 girls looked equally splendid in their Ancient Greek outfits, dressed as mythical creatures, goddesses and flying horses!

Professor McGinty, time-traveller extraordinaire, came to school to thrill the girls with tales of his trips to the past and Mrs Ruth Lewis gave each class a fascinating workshop about ancient languages. Along with some Olympic Games themed PE, crafts and making videos of themselves explaining how to mummify a body (a teddy!), the girls truly had a fun-filled day of interactive learning about their history topic.