Warwick Prep's Wellbeing Ambassadors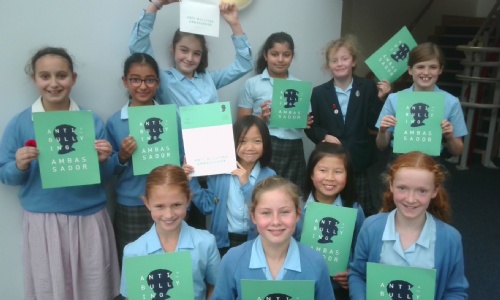 On Tuesday 8 November 2022, our Wellbeing Ambassadors completed the Anti-Bullying Ambassador Training Programme run by the Diana Award.
Supported by HRH The Duke of Cambridge, The Diana Award Anti-Bullying Campaign engages young people, parents and teachers to change the attitudes, behaviour and culture of bullying by building skills and confidence to address different situations, both online and offline.
The Anti-Bullying Ambassador Programme is all about equipping pupils with the tools needed to tackle bullying behaviour head on and support our school's approach to anti-bullying. The idea is that this will help to continue to promote a safe, kind school community at Warwick Prep. The Programme is pupil-led, and our newly trained pupils will be leading our anti-bullying campaign as 'Wellbeing Ambassadors'. We have decided upon the name of 'Wellbeing Ambassadors' as we want their role to be all-encompassing when it comes to pupils social, emotional, physical and mental health.
The Anti-Bullying Ambassador Training Programme was simply amazing. Our pupils left the day's training feeling truly inspired and ready to take on their role as Wellbeing Ambassadors for Warwick Prep. The training covered:  
Understanding the issue of bullying behaviour: a definition, the 3 types of bullying behaviour and the impact of bullying behaviour.
Practical ideas, top tips and putting their new knowledge and skills to the test through scenarios on bullying behaviour 
Skills to support peers and stay safe both online and offline
Practical next steps to plan a whole-school anti-bullying campaign
Huge congratulations to Zoe, Kylie, Maggie, Cara, Shan, Penelope, Eleanor, Katherine, Ayla, Sophia and Khadeejah on their appointment to Well-Being Ambassador. We very much look forward to seeing them grow and flourish in their new role.