Anti-Racist Bullying Behaviour Training Experience 19.01.23​​​​​​​
To help us start work on earning our respect badge, we all took part in an Anti-Racist Bullying Behaviour Training session.
We learnt that to be effective in addressing anti-racist bullying behaviour we, as Wellbeing Ambassadors, need to be able to:
Understand - What racist bulling behaviour is and how to identify it
Recognise - What racist bullying behaviour looks like. How racist bully behaviour can make someone feel
Respond - Support pupils in school who are experiencing racist bullying behaviour
Be confident - In using our skills to make our school a kinder, more respectful place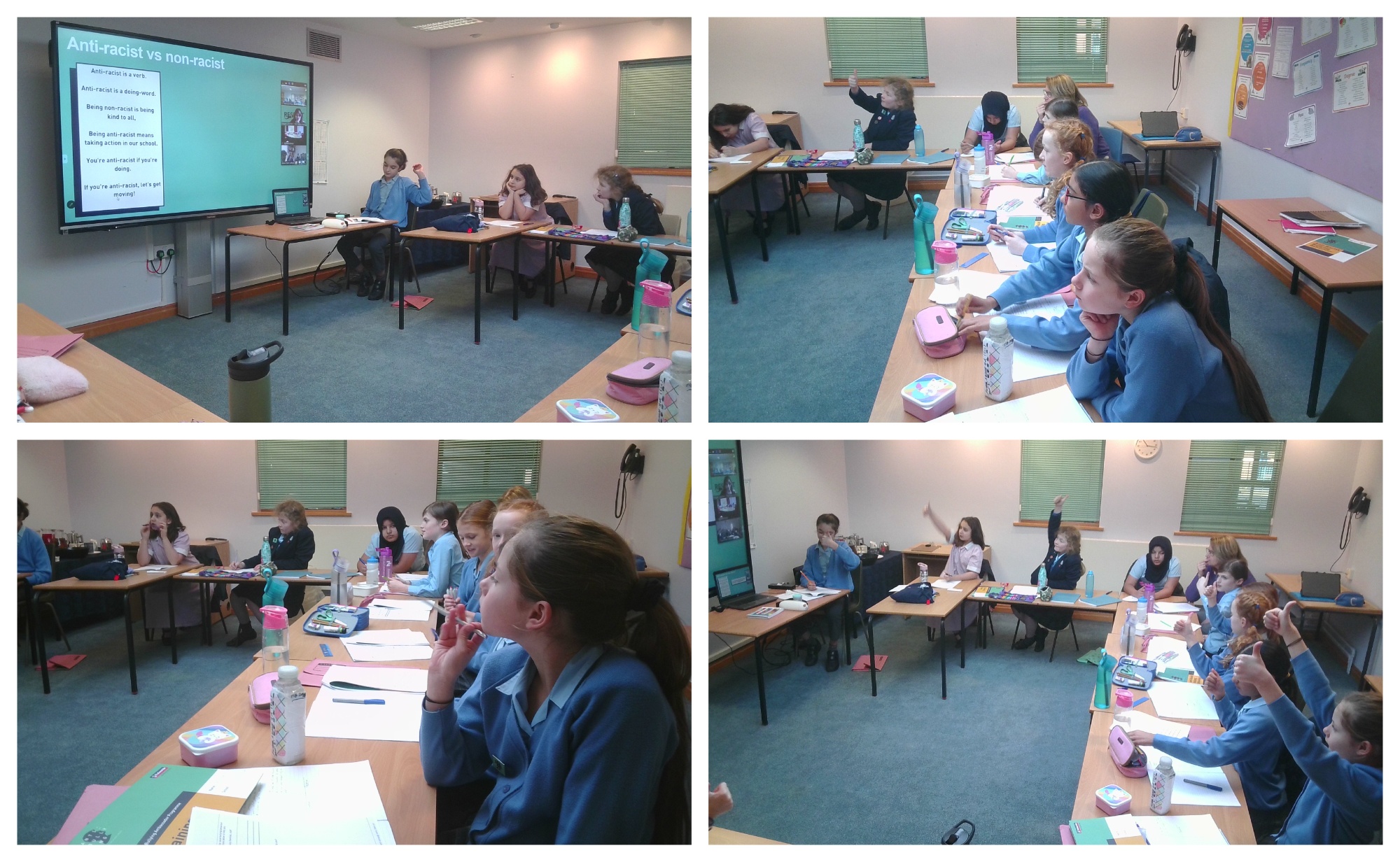 Are you aware of the following definitions?
Racism - Having the belief that people of different races are less than you in society, so you behave differently towards them. This could be due to skin colour, appearance, language, religion or culture.
Culture - Groups of people that have a particular way of living. This may include traditions and beliefs that they practice.
Identity - Who you are, the way you view yourself and the characteristics that define you.
Ethnicity - A group of people that have shared characteristics such as culture, language, religion, which can be part of someone's identity.
Nationality - Belonging to a particular nation or country either by being born there OR becoming a citizen.
Did you know that:
Over 60,000 racist incidents have been recorded in schools over the past 5 years

95% of young Black British people have witness racist language in education

Black children are more likely to be excluded from school, 6x higher than White children in some areas. Pupils in the Gypsy, Roma and Traveller community are 9x more likely to be suspended

Exclusion rates for mixed race and Black Caribbean pupils are 4x higher than White pupils

Only a small percentage of pupils study books and other materials that are by Black authors or those from diverse backgrounds
What is racist bullying behaviour?
Racist bullying behaviour is when someone repeatedly, verbally, physically or indirectly targets another person based on their skin colour, their actual or assumed culture, ethnicity, nationality or race.
We all enjoyed listening to this poem in our training, so we thought we'd share it with you.
Being Anti-Racist vs. Being Non-Racist
Anti-racist is a verb.
Anti-racist is a doing word.
Being non-racist is being kind to all.
Being anti-racist means taking action in our school.
You're anti-racist if you're doing.
If you're anti-racist, let's get moving!
What were our thoughts on our training experience?
Katherine
The training session was very powerful and was all about anti-racist bullying behaviour. The person who trained us was called Megan and she was amazing. We learnt that to be effective in addressing anti-racist bullying behaviour we have to understand what racist bulling behaviour is, how to identify it. Recognise what racist bullying behaviour looks like and how racist bully behaviour can make someone feel. Respond to support pupils in school who are experiencing racist bullying behaviour and be confident in using our skills to make our school a kinder, more respectful place. I can't wait to get started on our respect campaign!
Zoe
In this training we covered: what racist bullying is, how to identify and recognise it, how it can make someone feel, what it looks like and last but not least, how we can respond, act to ensure we teach pupils about it through a whole school campaign.
At the end of the training session, we were presented with facts and figures some shocked me. Did you know that 95% of black British people have actually witnessed racist language in education? Did you know that a lot of people have experienced racist bullying because of the colour of their skin? Do you know Leigh-Anne Pinnock from Little Mix? When she was in primary school, somebody in her class made a report on her that said: Name, Leigh-Anne, Age: nine, Nationality: the jungle. Can you imagine how that must have felt to have read that? Such bullying continued for her even when she started in Little Mix. Her manager told her that she would have to work ten times harder than her other bandmates because she was black. I can't wait to make a difference and help children at Warwick Prep to learn about racist behaviour and the damage it can cause young people.
Cara
Today's training was great. I have learnt how to support someone who is facing racist bullying behaviour. One of the things I learnt was that you can be racially abused because of your skin colour, your appearance, your language, your religion or your culture. Did you know that Actor, Katie Leung who played Cho Chang in Harry Potter was racially bullied. Someone secretly took a photo of her and posted it inviting comment about how she looked, and she started getting a lot of hurtful comments, messages. I now know how to stop racist bullying and I intend to support all pupils with how to be an upstander to racist bullying behaviour.
Penelope
The training on racist behaviour was very enlightening, and I feel that it is really going to help me and hopefully my fellow Wellbeing Ambassadors target such behaviour. I know that we can work together to create a campaign that focusses on how to respect each other and be open and honest about racism. I know that if the person is in distressed, worried or needing to talk about such an experience that I can help, be supportive.
Maggie
I think the training we had was great. I learnt all about who people experience racist bullying. We also focused on real life cases where people who were bullied talked about their life and what racism had occurred. When I saw a video of people experiencing racist behaviour my feelings were strange to me, new to me, and it made me feel sad for those people experiencing such horrible racist behaviour. One other thing I was surprised by was the amount of racism that exists around the world for so many reasons. After the training I feel I am more than confident with racist behaviour, and I am excited to learn more so I can help more!
Khadeejah
I enjoyed the anti-racist training by Megan. I thought it was really great that I had an opportunity to do this and built upon my first lot of training as a Wellbeing Ambassador. There was lots of key information shared that was so helpful. In the session, we learn how to understand, recognise and respond to racist bullying behaviour. We focused on how we all can work together to stand up and those that are behaving in a racist way and support those who are experiencing racist behaviour. Respecting each other, being open and honest is the way forward. I am so looking forward to running a campaign to spread the message of RESPECT for all.
Shan
The anti-racism training led by Megan went extremely well. I got to understand that people are racist about age, nationality, religion, culture, identity and much more. Such racist behaviour exists because we are all different, but some people choose not to accept difference and feel threatened by it. As part of the training we looked at a few famous people case studies and got to learn about the racist bully behaviour they experienced as children and young adults. Some of them include, Katie Leung (the actor of Cho Chang in Harry Potter) and Leigh-Anne from Little Mix. I liked how we focused on how to support people experiencing racism even as children, I know that we can make a difference. It was the best day ever!
Ayla
This training was very exciting, we covered a lot of areas, such as how to support a peer being bullied because of their age, height, race, religion and culture. I learnt what it feels like to be a target of racism and I know how I can comfort them and stop the racist person/bully. I believe that I am more confident as a Wellbeing Ambassador following this training and that I can now help everyone in my community such as family, friends and peers in my school. I am glad that Warwick Preparatory School is taking part in the Diana Award, so that I can help my peers and make a difference. This was an amazing and great experience that I will never forget. Megan our trainer was great and so was everyone else who took part.
Kylie
I loved the training session and learnt so much about racism. I have learnt how to support pupils who experience racist bullying. Now that I've learnt so much and how to help, I am happy and ready to help anyone at Warwick Prep who needs me!
If you are feeling worried or need to talk, here are some options: speak to one of your trusted adults, come and find one of the Wellbeing Ambassadors on the playground at break time or lunchtime, talk to a family member or teacher, contact the Diana Award advice messenger, text DA to 85258 and volunteers will support, www.diana-award.org.uk or call 0800 1111. Always call 999 if you are in danger. Megan, our trainer taught us so much, how to help, support and make someone feel better. I am here for you!
Sophia
The training was really interesting, and I learnt a lot from Megan our trainer. I have found out a lot more about racist bullying. Pupils can be targeted because of their culture, identity, ethnicity or nationality. We also learnt about how to support someone who is being bullied. We were inspired by Megan to create our campaign idea. Our idea is to have a 'celebration week' where we learn about different people's culture and nationality. We could complete lots of fun activities and try different foods. The training day taught me a great deal, and I know feel ready for my Wellbeing Ambassador journey.
Eleanor
I had an awesome time training and learning about racist behaviour. At the start, we learnt to understand what racial bullying behaviour is. I learnt how people are targeted based on skin colour, culture, religion, nationality and race. I was quite shocked by it all, but it helped me understand my role in being an upstander. I loved how we got to share our ideas on how we, as Wellbeing Ambassadors, can make a difference. I liked just being ourselves and free to share our thoughts, feelings.